Supporting Your Productivity
It's critical your employees to focus on the production output and reducing maintenance downtime. Procell's long lasting batteries help to power the profitability of your business. By minimizing the time and costs spent on battery replacements, your staff can focus better on production output.
Find our recommended solutions* for devices across different work areas – Procell Alkaline Intense or Procell Alkaline Constant.
Explore all Industrial solutions
Best fit solutions for
Mobile Utility Truck
Barricade Lights
Cameras
Ear Muffs
Flashlights
Gas Detectors
GPS Units
Label Makers
Line Cable Testers
Meter Readers
Test Equipment
Underground Cable Locators
Video Camera Scopes
Wind Speed Indicators
Best fit solutions for
Power Generating Plant
Air Meters
Air Monitors
Amp Meters
Cable Analyzers
Cable Testers
Chip Measurement Analyzers
Chlorine Meters
Circuit Testers
CO Detectors
Conductivity Meters
Cameras
Digital Thermometers
Door Locks
Ear Muffs
Electronic Balancers
Electronic Calipers
Electronic Scales
Electrostatic Locator Meters
Flashlights
Gas Analyzers
Gas Detectors
Gas Meters
Hard Hat Lights
Ionizer Testers
Label Makers
Methane Detectors
Multimeters
Oxygen Meters
Portable Warning Lights
Radiation Alarm Monitors
Smoke Detectors
Static Field Meters
Thermostats
Two-Way Radios
Underground Cable Locators
Volt Meters
Voltage Detectors
Best fit solutions for
Substation
Air Fresheners
Automatic Faucets (In-Sink)
Automatic Soap Dispensers
Automatic Toilets
Automatic Towel Dispensers
Cable Testers
Clocks
Earth Ground Detectors
Flashlights
Flushometers
Gas Detectors
GPS Units
Handheld Oscilloscopes
Infrared Thermometers
Power Quality Testers
Process Tools
Smoke Detectors
Test Equipment
Thermal Imagers
Two-Way Radios
Underground Cable Locators
*Above solutions are a recommendation only. Realized benefits may vary based on make and model of devices.
Recommended batteries by device
Select the device you want to power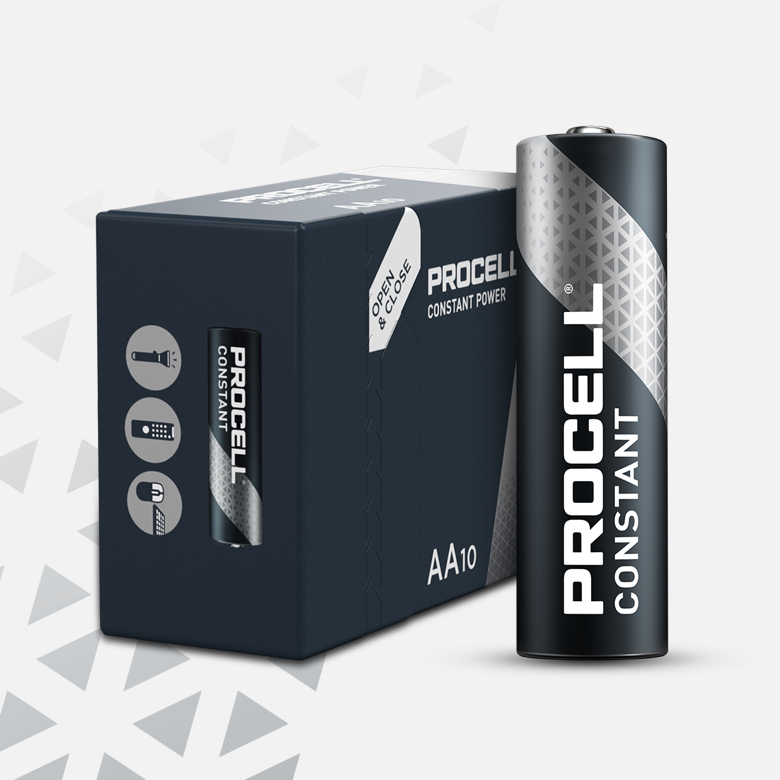 Procell Alkaline Constant AA, 1.5V